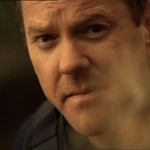 JACK IS FORCED TO MOVE IN ON KALIL, OMAR THREATENS GREAT HARM TO AUDREY ON "24" MONDAY, JANUARY 17, ON FOX

Jack must track a new lead to Heller after the police make a crucial mistake with Kalil. Meanwhile, Omar threatens great harm to Audrey unless Heller signs the confession in the 24 episode "Day 4: 11:00 AM-12:00 Noon" Monday, Jan. 17 (9:00-10:00 PM ET/PT) on FOX. (TWF-405) (TV-14 V)

Cast: Kiefer Sutherland as Jack Bauer, William Devane as James Heller, Kim Raver as Audrey Raines, Alberta Watson as Erin Driscoll, Lana Parrilla as Sarah Gavin.

Guest Cast: Aisha Tyler as Marianne Taylor, Mary Lynn Rajskub as Chloe O'Brien, Nestor Serrano as Navi Araz, Shohreh Aghdashloo as Dina Araz, Jonathan Ahdout as Behrooz Araz, Roger Cross as Curtis Manning, Louis Lombardi as Edgar Stiles, Tony Plana as Omar, Geoff Pierson as John Keeler, Anil Kumar as Kalil Hasan, Phyllis Lyons as Karen Pendleton, Leighton Meester as Debbie Pendleton, Dana Walters as Keeler's assistant, Rick Haul as Sgt. Paulson, Kevin Alejandro as Kevin, Robertson Dean as Henry Powell.