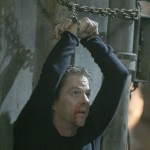 JACK'S ATTEMPT TO INFILTRATE MARWAN'S CEL GOES BAD, CURTIS INTERROGATES BEHROOZ ON "24" MONDAY, MARCH 28, ON FOX

When Jack's attempt to infiltrate Marwan's cel goes terribly wrong, CTU pools all their resources to find them. Meanwhile, Curtis interrogates Behrooz to find out what he knows about Marwan in the episode "Day 4: 9:00 PM-10:00 PM" Monday, March 28 (9:00-10:00 PM ET/PT) on FOX. (TWF-415) (TV-TBA)

Cast: Kiefer Sutherland as Jack Bauer, William Devane as James Heller, Kim Raver as Audrey Raines, Lana Parrilla as Sarah Gavin.

Guest Cast: Reiko Aylesworth as Michelle Dessler, Jonathan Ahdout as Behrooz Araz, Carlos Bernard as Tony Almeida, Mary Lynn Rajskub as Chloe, Louis Lombardi as Edgar Stiles, Arnold Vosloo as Marwan, Ned Vaughn as Mitch Anderson, James Morrison as Bill Buchanan, Cliff Wesiman as chief mechanic, Cameron Bancroft as Lee Castle.