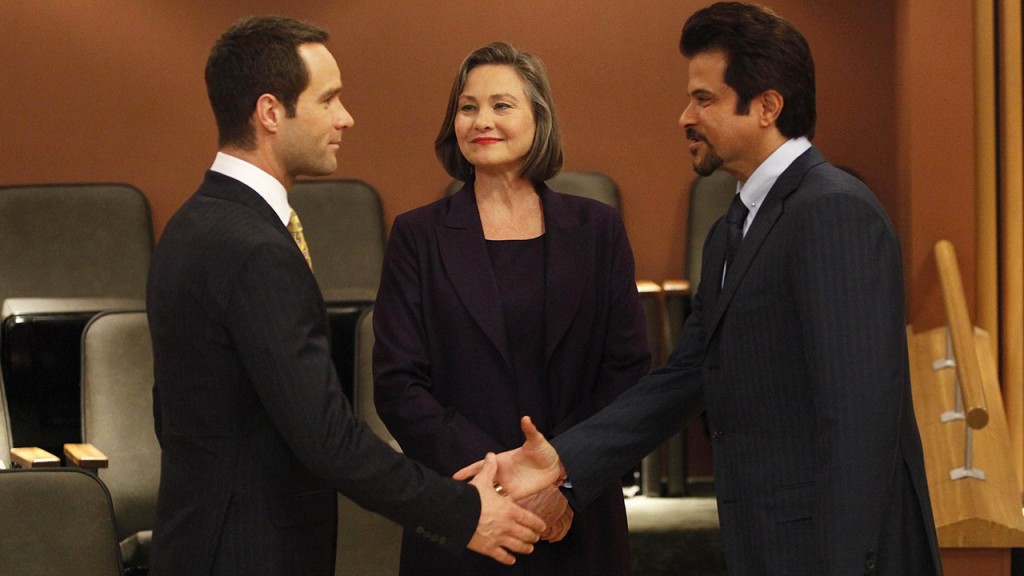 Entertainment Weekly's Ken Tucker has reviewed the 24 season 8 premiere, scoring it a B.
The New York edition of 24 begins when the president of the fictional country of Kamistan, Omar Hassan (Slumdog Millionaire's Anil Kapoor), is interrupted in his peace talks with our president (a cheery Cherry Jones) by an assassination threat. Kiefer Sutherland's Jack Bauer looks appropriately wary as he's drawn into this plot; his expertise is called upon by a variety of familiar faces. These include not just Mary Lynn Rajskub's Chloe but also Battlestar Galactica's Katee Sackhoff as a new CTU data analyst, Boomtown's Mykelti Williamson as the new CTU chief, and Freddie Prinze Jr. as a brave CTU agent (read: this season's Rick Schroder, with more modesty).

There's a familiarity to 24's structure that now seems a little tired, as does Jack as he reluctantly enters another mission. His hesitancy is earned; 24, by contrast, must earn our allegiance for another season. I love how they've unhinged Annie Wersching's Renee Walker; ditto the way Chloe is downgraded to a floundering tech helper who's grateful for a job. I did not love the inevitable hostage-taking and Killing of Superfluous Character No. 687 in the Jan. 17 premiere.

"You're the guy who always does the right thing," someone says to Jack in the premiere. You can never tell how the uneven days of 24 will vary in quality, but here's hoping the show keeps doing all the right things it does in these opening hours.