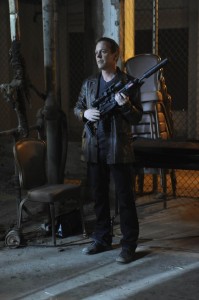 David Hinckley of NY Daily Mag has reviewed the 24 series finale ("Kiefer Sutherland and co. clock out with a winner") and also provides a spoiler near the end of the article.
Monday night's two-hour finale of Fox's "24" is a bloody mess.

It's that good, and yes, we expected no less.

Like "The Sopranos," "The Shield" and other A-list crime-and-morality dramas, "24" doesn't pretend that the end of the show means injustice, corruption and evil can magically be made to disappear.

So the show provides some resolution to this season's story line, which revolved around the human and moral cost of trying to craft a Middle East peace treaty.

At the same time, Monday's finale makes it clear that counterterrorism agent Jack Bauer (Kiefer Sutherland) will always be outnumbered and outgunned in his battle to stop the bad guys.

The best Jack can do is stick his finger in the dam from time to time while he searches for the occasional ray of light.

The last time he found one of those, however, in fellow agent Renee Walker (Annie Wersching), she was promptly killed.

Renee's death continues to set up this season's climactic action, as a near-psychotic Jack seeks to kill everyone involved. Even if that person is a head of state.

It's vintage Jack, an equalizer whose raw fury we understand.

"I would have accepted justice by law," Jack says, in what could serve as a mission statement for the whole eight-season run of "24." "But that was taken from me. [So] I am judge and jury."

That sort of remark explains why Jack has been compared to Clint Eastwood's justice-dealing cop Dirty Harry. Jack's world, however, has never been as black-and-white as Harry's, and things don't change Monday just because the series is ending.

His adversaries include true creeps like robotic Russians and former President Charles Logan (Gregory Itzin), whose every utterance makes your skin crawl. It includes good people who have lost their way, like President Allison Taylor (Cherry Jones).

He also runs with some good people who stay good, like young agent Cole Ortiz (Freddie Prinze Jr.) and loyal associate Chloe O'Brian (Mary Ann Rajskub).

The fact he and Chloe at one point are yelling threats at each other underscores how a few bad decisions at the top can poison the whole world.

So yes, the world is a mess. It's also bloody, and while Monday's finale may have fewer outright deaths than usual, it compensates for any shortfall in body count with nice touches like having body parts bitten off.

All props to Mike Tyson.

It shouldn't be any major spoiler to say that in the end, neither Jack Bauer nor "24" leaves us with any rosy illusions about saving or cleaning up the world.

Jack never stops trying to make his corner a little better, however, and in the process, he closes out "24" the same way he ushered it in: as a fast-paced, first-rate action-adventure that pauses just long enough to show us a heart.