Update: Read our review of the 24 Season 8 DVD/Blu-Ray and Complete Series box set!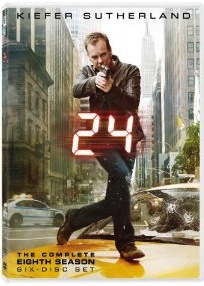 It was announced in the end credits of The Tonight Show with Jay Leno (which Kiefer Sutherland appeared on tonight) that the 24 Season 8 DVD and Blu-Ray set (along with the complete series) would be released on December 7th 2010.
The text on-screen read:
"24" Season 8 Blu-Ray DVD And The Complete Series Available December 7.
It's now available for preorder on Amazon (and on Blu-Ray) at a discounted rate and with their price guarantee. Amazon doesn't charge you until the product ships, so it's a good idea to pre-order while it's cheap.
Thanks Margaret for the heads up!