Update: Read our review of the 24 Season 8 DVD/Blu-Ray and Complete Series box set!
FOX has finalized the 24 Season 8 DVD and there has been a slight delay – the new release date is December 14th rather than the previously announced date of December 7th. Here's the updated information (thanks to TVShowsonDVD):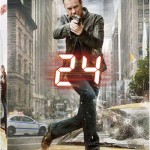 24 Season 8
Release Date: December 14th
Price: $59.98 SRP (6 disc DVD version), $69.99 SRP (4 disc Blu-Ray version)
Special Features include:
Deleted Scenes
Scenemakers (Behind the Scenes) – watch them all here
"The Ultimate CTU" featurette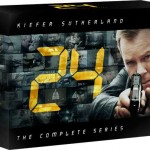 24 The Complete Series
Release Date: December 14th (Available on DVD only)
Price: $349.98 SRP
Discs: 56 (all eight seasons, 24: Redemption, and a bonus disc of special features)
Special Features include:
Chloe's Arrest (which I broke the news about last month)
Season 8 Wrap Party Reel
Eight Days (broken up into the following four segments – Jack Bauer: Evolution of a Hero, Presidents Friends and Villains, Memories and Moments, Goodbye)
You can buy the 24 Season 8 on DVD on Amazon – it's also available on on Blu-Ray.