Update: Watch the full Chloe's Arrest epilogue!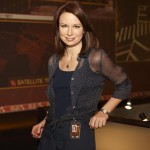 A new scene is being filmed for the 24 Season 8 DVD today featuring Chloe O'Brian (Mary Lynn Rajskub), her husband Morris O'Brian (Carlo Rota), and their young son Prescott O'Brian (played by showrunner Howard Gordon's son in 24 Season 7). This was something that was just locked down within the last few days – as of August 9th it was still up in the air.
No word on what the scene entails – it could be some kind of epilogue of sorts, a tie-in to the 24 movie, or more likely just a short scene for fans of the series. Hope to have more information soon!