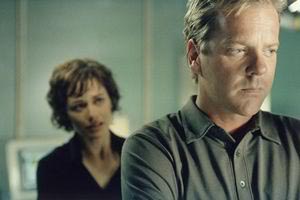 Cochran, who left the series during Season 6, and executive producer Howard Gordon, who ran it since early in the first season, sat down with The Wrap to choose the 24 greatest moments in the "24" pantheon, presented here in chronological order.

1. Voice-over
SEASON 1 | Episode 1 | Date: Nov. 6, 2001
The first episode begins with words on a screen and the low-key voice of Special Agent Jack Bauer (Kiefer Sutherland): "The following takes place between midnight and 1 a.m. on the day of the California presidential primary. Events occur in real time."

Those last four simple words signified a historic experiment in TV storytelling. Never before or since has a series taken place without cutting ahead or flashing back in time.
Check out the other 23 moments at the link below.