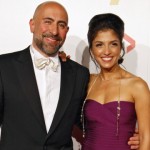 Fans of 24 know Carlo Rota as Morris O'Brian, the recovering-alcoholic husband of the show's snarky super-sleuth Chloe O'Brian, played by Mary Lynn Rajskub.

For three seasons of the FOX hit, he aided his wife in saving the world, but this weekend, he helped children fight cancer. On The Red Carpet caught up with Rota at the L.A. Rally for Kids With Cancer to ask if he had any 'intel' on a 24 movie in the works.

"Yes, I have heard about it. But it's a complicated little animal, the movie," he told us.

"The series was a day, in a season. So you got a movie, now you have two hours. Three maybe… Conceptually speaking, you got a problem, there's a hurdle there. But there's still the definite threat of the film, absolutely."

As to whether or not Rota will be a part of the film, he didn't count himself out.

"Where's my cell phone? Maybe they've called this morning. While I was feeling fragile," he laughed.