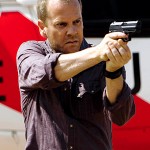 Long-time 24 fan Chief (a.k.a @tvisgreat) attended the Gideon's War book signing at Park Road Brooks in Charlotte, North Carolina tonight and got to ask the former 24 showrunner Howard Gordon why exactly Billy Ray's 24 movie script was rejected:
Howard Gordon said the reason 20th Century Fox passed on the Billy Ray screenplay was because they felt like it was too much like an episode of the show only super-sized. They didn't think there was enough of a reason for that script to get the film treatment rather than TV.

Also, they insist on a big-name actor to star alongside Kiefer in some capacity as either a villain/partner/whatever. They want to be able to promote more than just Kiefer Sutherland. He didn't say FOX wanted to be able to promote more than just Kiefer but that was the assumption I took from it. But he seemed extremely confident that the go-ahead will happen within the next 12-18 months. Anyway, more tomorrow.
It's important to keep in mind that Gordon didn't actually say that last part and it was just Chief's assumption, but it makes total sense given that we know FOX floated the idea of pairing up John McClane (Bruce Willis) and Jack Bauer in a Die Hard/24 crossover.
Source: TVisgreat twitter. Update: Check out his new blog post with much more info.