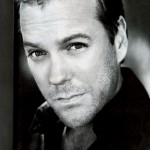 Some great 24 movie news from LA Times. They are reporting that the 24 movie is actively being worked on and is a "priority" for both the studio and producers, with Kiefer Sutherland meeting with a high-profile writer.
Despite Kiefer Sutherland's enthusiasm for a "24" movie, which he told "Extra" yesterday would begin filming in eight months, the movie is still a project very much in development. Twentieth Century Fox has not yet greenlighted the film, though they are working actively on the project with producers Imagine Entertainment.

The true situation with the film, according to two people involved with the project, is that the studio is trying to hire another writer for an additional rewrite. Billy Ray ("State of Play") wrote the initial screenplay.

The movie, which would continue the storyline of Sutherland's rogue agent Jack Bauer, is a priority for both the studio and the producers. One source confirms that Sutherland did recently meet with a new high-profile writer that the studio could hire for the revisions–a reason why Sutherland's enthusiasm might be so great right now. But that writer has yet to be hired and there are a lot of steps that must be reached before Fox is ready to issue the green light.