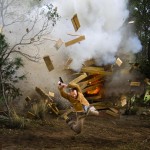 E. Magill over at Open Salon has made a list of eight suggestions the 24 movie should follow. It's a great list coming from someone who is clearly a fan of the show and hopefully whoever is writing the 24 movie follows these guidelines.
At this point, it is impossible to get away with killing off Jack Bauer. It would be like killing Dirty Harry, John McClaine, or James Bond. He has simply become too iconic and too strong a character to let him die. Naturally, you can (and should) toy with the audience and make them believe it is possible that Jack could die in the end, but he needs to limp away to reluctantly fight on another day.

Killing Bauer would be like killing a part of America at this point, and it would force the movie to end too bleakly. After all, Jack Bauer is the modern superman who cannot be replaced, so if he dies, there won't be anybody to take his place and America would crumble under the weight of all the terrorists, CTU moles, and evil government agents Jack Bauer keeps at bay on a daily basis. Besides, I'm sure the execs at Fox want Jack Bauer to live for as long as he remains profitable, so killing him off is a good way to get your script rejected.
Check out E. Magill's entire blog post at Open Salon.