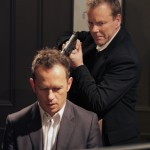 Brad Mirman, director and writer of Kiefer Sutherland's new series The Confession, just announced on his Twitter that it would be premiering in the US on March 28th. The internet series will launch with two episodes.
Kiefer Sutherland said earlier this week on Regis and Kelly that they were thinking of airing the series three episodes at a time, but that hasn't been officially confirmed yet.
A deal is still being worked out to release the series worldwide on various sites. Mirman also says to expect some more behind the scenes footage of The Confession next week. For now you can watch the trailer for The Confession here.