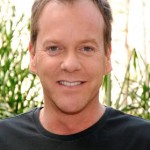 TV Guide put up a poll asking fans which star they are most looking forward to seeing again on television. The choices include Kiefer Sutherland, Sarah Michelle Gellar, Tim Allen, and Debra Messing.
As of this posting Kiefer has 52% of the 882 votes. Let's make that even higher! It seems as if you can vote repeatedly, just refresh the page and it will allow you to vote again.
Vote here in TV Guide's Poll: Which Star Are You Most Excited About Returning to TV?