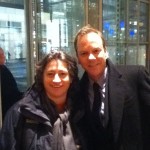 Great story with pictures by Lisa (@K2293 on Twitter) at her great 24JackBauer4Ever site. She met Kiefer Sutherland at Times Talk in New York City and got to chat and take some pics with him!
After the event was over I was extremely lucky to meet and speak with Kiefer Sutherland. Kiefer is the sweetest, nicest, coolest guy you could ever encounter. He is just awesome in every way.

Kiefer you totally ROCK!! I've been a fan for years, way before 24, of course during 24, and will always be one of his biggest, loyalist fans. Kiefer is going to be sensational on stage, and I can't wait for the opportunity to see him live on stage at the theater! What an experience that will be.
Check out her full post with pictures here.