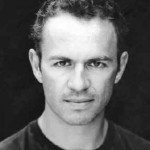 Actor Greg Ellis who played Michael Amador in 24's third season is once again reuniting with Kiefer Sutherland. He's joined the cast of Touch season 2 in a multiple-episode arc playing the character Trevor Wilcox, an old war correspondent friend of Martin Bohm (Kiefer Sutherland).
Ellis also guest-starred in an episode of Kiefer's Hulu web series The Confession early last year.
The second season of Touch will air during a new night and time slot, premiering Friday October 26th at 8:00 PM on FOX.