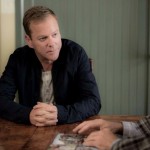 With Touch being a massive flop and pilot season heating up, other networks are starting to offer Kiefer Sutherland starring roles in their pilots. One of these is potential NBC series The Black List which would have Kiefer playing a criminal. The plot synopsis sounds extremely similar to the USA Network show White Collar.
NBC has offered Kiefer Sutherland a starring role in the pilot The Black List, a provocative new development that doesn't seem to bode well for the future of Touch on Fox.

From Jon Bokenkamp, The Black List is about how the world's most wanted criminal mysteriously turns himself in and offers to give up everyone he has ever worked with. His only condition is he will only work with a newly minted FBI agent with whom he seemingly has no connection.

Sutherland has been offered the role of the criminal. It's a second position offer, since no decision has been made on the future of the Sutherland starrer Touch. But Fox can't be pleased with how the second year drama from Tim Kring is performing on Fridays: the series averaged 2.7 million viewers and a mere .7 rating in adults 18-49 last week.
If Kiefer accepts and assuming the pilot gets picked up to series, you can rule out the 24 movie shooting any time soon…