Update 4/1: As expected, '24' has been removed from Netflix and unfortunately it's not coming back anytime soon – Amazon has purchased exclusive streaming rights to the series.
Many concerned "24" fans have emailed us that the series is expiring on Netflix streaming April 1, 2014. We've confirmed this is true in the United States – below is a screenshot from Netflix US with the expiration date circled in red (click for full size).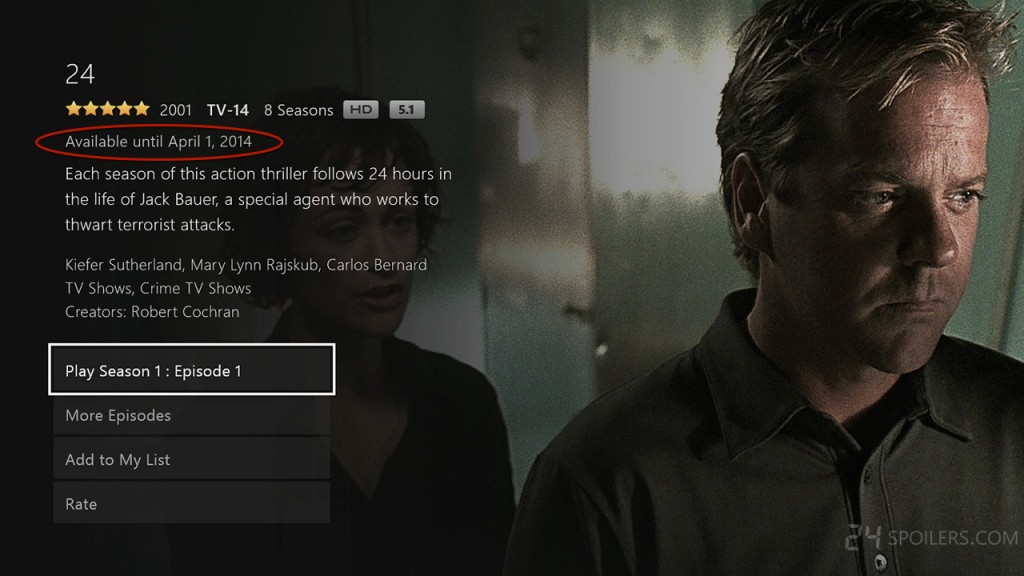 Netflix has been the best way to watch 24 – aside from the convenience of not having to switch discs, it's also the only service that has the earlier seasons available in high definition.
24 was first added to Netflix on April 1st, 2010. The following year Twentieth Century Fox signed a new multi-year contract with Netflix. No other FOX television series have an expiration date listed – this is an issue specific to 24.
Hopefully FOX and Netflix work out a new deal, but you might want to prepare for the worst case scenario and accelerate your 24 re-watch just in case it gets pulled from the service. There might be only ten days left to catch up via Netflix.