Last night's episode of 24: Legacy was seen by 3.10 million viewers (down 132,000 from last week) and received an 0.8 in the 18-49 demographic. Both numbers are new series lows.
Looking at the ratings chart for this season should be cause for concern since it demonstrates a clear trend: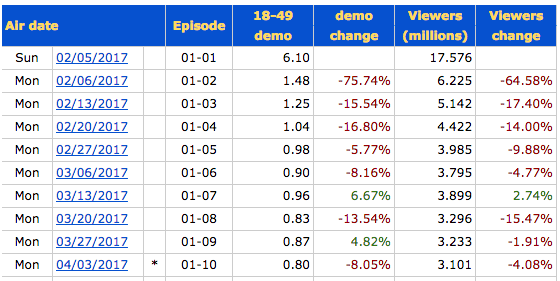 via TV Series Finale
Legacy has been consistently bleeding viewers. Only a single episode (Tony's return) has shown a slight increase, with the rest all losing viewers week-to-week. The 18-49 demo figures tell the same story – all but two episodes have seen drops.
Fox upfronts presentation will be held May 15th in New York and that's when we'll learn the fate of 24: Legacy and the rest of their schedule.
Ratings
ShowBuzz Daily
SpoilerTV
TV By The Numbers
TV Series Finale