24: Legacy remained steady in the demo (0.8) for the finale episode and rose slightly in total viewers to 3.42 million (up 126,000).
This is what the ratings look like for the complete season: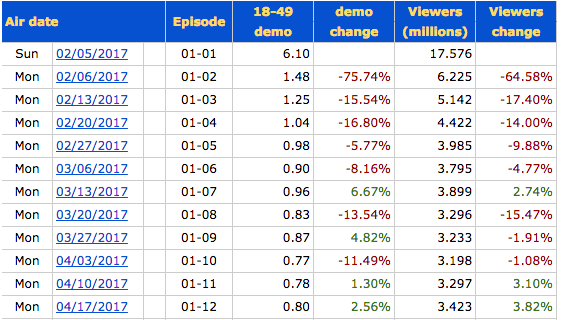 via TV Series Finale
FOX boss Dana Walden said last month that she was "a little sad" about Legacy's disappointing ratings performance and that "we're just going to have to see how our pilots come in, how it continues to perform and weigh all of the information we have in May."
What might help 24: Legacy's renewal chances is that the network has only produced four new drama pilots this season.
Long-running drama Bones ended its run after twelve seasons on air last month, and all indications point to APB and Pitch being axed, so the network will have some slots to fill. Other FOX dramas on the bubble are Scream Queens, Rosewood, Sleepy Hollow, and The Exorcist.
Here's what former FOX scheduling head Preston Beckman had to say about this yesterday:
Have not seen the final episode of "24: Legacy," but if I were still at FOX I would not recommend returning the series that quickly. It got the big Super Bowl push and quickly settled under a 1 rating in live plus same-day, so there was little urgency in viewing it.
FOX's 2017 Upfront presentation takes place May 15th in New York.
Ratings
ShowBuzz Daily
TV By The Numbers
SpoilerTV
TV Series Finale