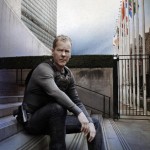 This sort of conflicts with other prior information from Howard Gordon so take it with a grain of salt, but Kristin Dos Santos from E! Online is suggesting that Jack will have a happy ending in the series finale.
Nate in Boston: Please tell us you know some scoop about the 24 finale!

We have it on good authority that Jack Bauer will actually get a happy ending…whatever that means in the land of 24.
Source: E! Online