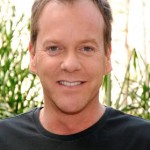 This is probably not the Kiefer Sutherland movie news many of you are hoping for, but Variety is reporting that Kiefer has joined the cast of movie Sleight of Hand, a French heist thriller directed by Brad Mirman. Other actors in Sleight of Hand include Gerard Depardieu, Thomas Jane, Til Schweiger and Jon Lovitz.
What this means for the long-awaited 24 movie is unclear. Kiefer has repeatedly claimed it will start filming in January 2012 for a summer release, yet he continues to take on more and more projects including the new TV drama series Touch which FOX is expected to pick up next week. The Hollywood Reporter claims that Touch is already hiring writers.
Let's hope Kiefer finds time in his busy schedule to squeeze in a 24 movie.
Update: Director Brad Mirman clarifies that Sutherland is attached to do "a few scenes pending his availability". Production on Sleight of Hand begins late July in Paris.