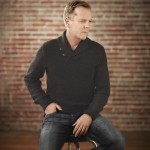 During todays Television Critics Association winter tour presentation panel for Touch, Kiefer Sutherland reiterated the current plans for 24's feature film. "We will be shooting end of April or beginning of May," the actor said.
Kiefer also confirmed that just like the television series, the movie would take place over the course of a single day, though obviously not in real-time. As for where the movie will fit in the timeline of the series? Kiefer says it's "relatively a direct continuation [from the series finale]. We're talking maybe six months from the end of that episode."
Although Kiefer Sutherland is tight-lipped when it comes to revealing the cast, Howard Gordon confirmed yesterday that fan favorite Chloe O'Brian would appear in the film along with new characters. The movie is being written by Mark Bomback and currently has no director attached.
Sources: TV Guide Magazine, TVLine