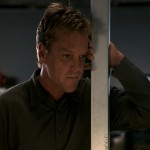 Things have been looking promising for the 24 movie lately, with a finished screenplay by Mark Bomback that Kiefer said he loved, and producer Brian Grazer stating they were casting the main villain.
But things appear to have hit a snag with Kiefer Sutherland revealing in an interview from yesterday that he's frustrated with all the delays and less optimistic about being able to start filming soon.
We have a script that's fantastic. The difficulty right now is that the schedule for Touch is really demanding. We will finish in the end of April, I think at one point it was supposed to be a little earlier than that. And then we would start up [on the movie] quite quickly. So it's trying to find the time in the middle to make the film. I was probably more optimistic about starting in May a couple weeks ago than I am right now.

But it is definitely something I've been trying to do for five years. I've had such an amazing experience on 24. I loved the character, I love the genre – it's really my favorite genre of film, which is that of the thriller. It's something I deeply, deeply want to do. And it's very frustrating to keep kind of running into these hurdles and blocks.
Kiefer had previously blamed Touch for "having to push the movie back about seven months" and now it looks to be responsible for yet another delay.