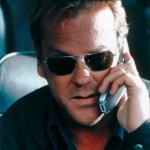 TheWrap is reporting that there's no chance of the 24 film being shot this year, and that the script will be reworked yet again.
Kiefer Sutherland has made peace with Twentieth Century Fox over his "24" movie, but the project has been pushed until next year, TheWrap has learned.

The movie production was set to start shooting next month after Sutherland wraps the season for his television series, "Touch," but a dispute over budget and the star's fees put the project off schedule and means it has to be pushed until next year.

"It didn't work out right now. Everyone is trying to figure out how to do it next year," an individual close to the project told TheWrap.

A Fox spokesman did not respond to several requests for comment.

The plan now is for a new writer to rework the script, which Billy Ray wrote.