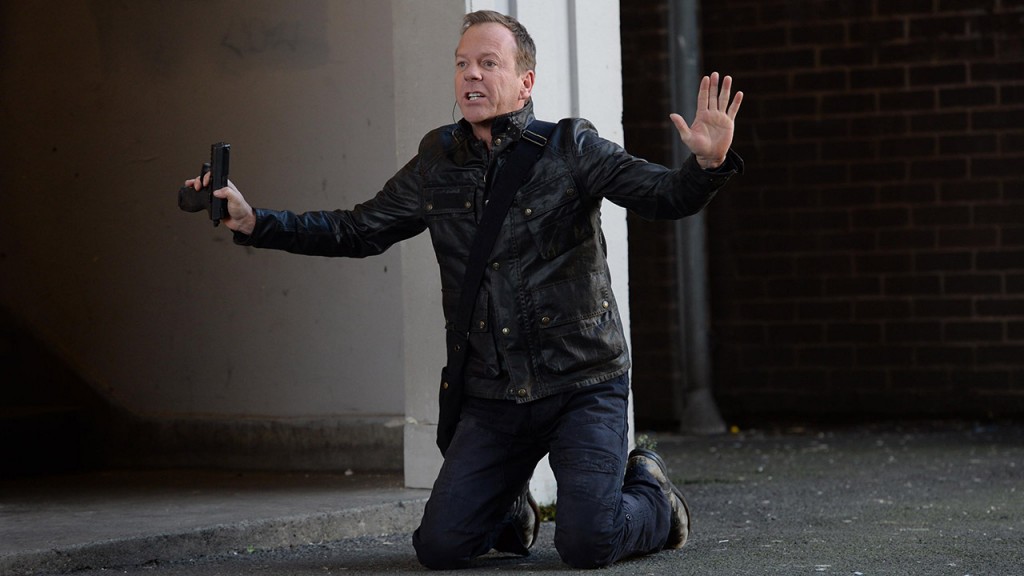 TV Guide Magazine: 24 went out with a glorious bang. Why not leave well enough alone?
Kiefer Sutherland: It was done for me. I went off to do a play in New York, a movie in Sweden and then got involved with Touch. But when I called [executive producer] Howard Gordon to congratulate him for winning the Golden Globe for Homeland, he said, "So, I have this thing that's been gnawing at me." I thought he had a new show in mind. I was pleasantly surprised when he brought up 24. The decision to get back into it took me about 15 minutes. Then I spent the next six months going, "What the hell did I take on?"

TV Guide Magazine: You're nervous about it?
Sutherland: Absolutely. Walking away as cleanly as we did, there was a real sense of accomplishment. We always said there were things we could do better or tried to improve on, but I was as proud of 24 as anything I've ever done. So now we owe it to the franchise and our audience to maintain that extraordinary level of quality and heart-pounding drama. I remember looking at [executive producer] Jon Cassar that first day of shooting and saying, "Look, if you see me doing anything that doesn't remind you of Jack Bauer, you've got to tell me right away."

TV Guide Magazine: Set the scene for Live Another Day.
Sutherland: This may not sound possible, but Jack is harder and colder than he's ever been. When we first see him, he's no longer affiliated with CTU or governed by an administration. He's been displaced from his family, from his country, and he's unable to explain his side of the story [since going off the grid after killing a slew of Russian diplomats]. He's being hunted by the CIA and FBI and is in a very angry place where he doesn't trust anybody. And Chloe starts off as Jack's adversary this time. She's nearly as dark as Jack is. But in a reverse of previous seasons, Jack gets more in touch with the human aspects of his character as time progress.

TV Guide Magazine: Was it like seeing ghosts when you did scenes with President James Heller (William Devane) and his daughter, Audrey Raines (Kim Raver), who last appeared at the end of Day 6?
Sutherland: Not for me personally, because I've remained friends with Bill and Kim all these years. But certainly when Jack sees Audrey again for the first time, it's a bomb drop for him and one of the most emotional moments the character has ever had.

TV Guide Magazine: Yvonne Strahovski plays CIA operative Kate Morgan. Is she friend or foe?
Sutherland: He's running from her in the beginning. She reminds Jack of a younger version of himself. She believes in doing the right thing, which doesn't always mean following the rules. The objective is the most important thing for her.

TV Guide Magazine: You were born in London. What's it like shooting there?
Sutherland: The city's taken a real interest in us and it's been fun running through those beautiful streets. We shoot on Sundays because London's traffic is so bad during the week, and we don't want to add to that. But you won't see us in front of Tower Bridge or Westminster Abbey. It's a different London we're after.

TV Guide Magazine: When 24 premiered in November 2001, you were 34. Being an action hero must be harder at 47.
Sutherland: Good Lord, yes. I am older. There's no way around that. But I had the luxury of training for four or five months coming into this, and when we started, I was in the best shape of my life. That helped me bounce back faster.

TV Guide Magazine: Did you suffer any injuries?
Sutherland: I was definitely bruised and battered this time around. Once, I went to open a metal door while being shot at and didn't realize it was a prop. I pulled the door handle off completely and fragments shattered in my face. Then a bullet cartridge firing multiple rounds freakishly hit a metal beam and bounced three inches from my face. I had blood pouring out. But, listen, I'd do anything for this character.