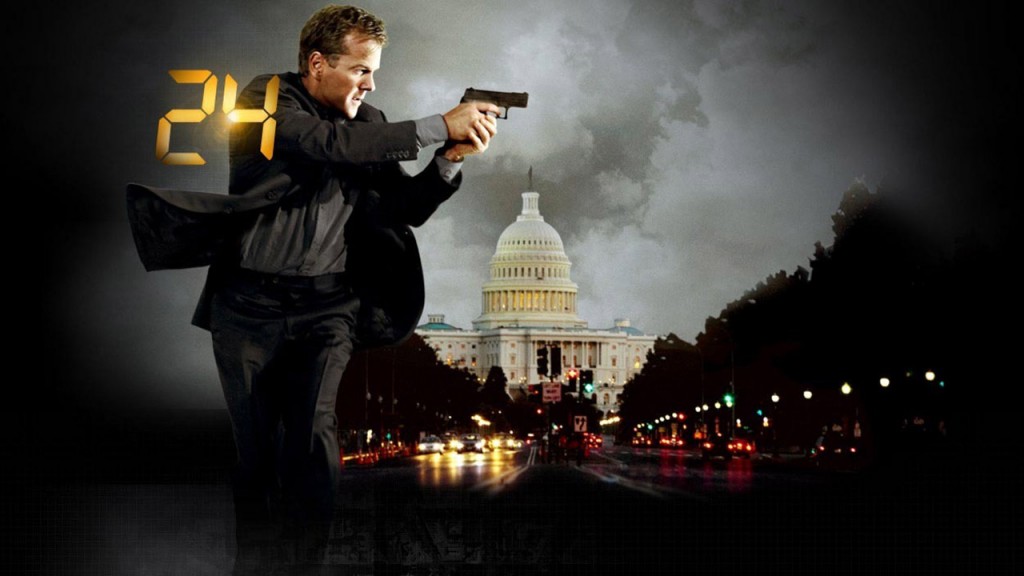 24'S SEASON SEVEN CLOCK STARTS WITH WORLDWIDE SNEAK PEEK AT 24TRAILER.COM AND LIVE FROM TIMES SQUARE THURSDAY, OCT. 25

Season Seven Premieres with a Special Two-Night Event Sunday, Jan. 13, and Monday, Jan. 14

As the clock ticks closer to 24's highly anticipated return, a special, extended "Day 7″ trailer will have its worldwide premiere Thursday, Oct. 25 (1:00 PM ET/10:00 AM PT) at www.24trailer.com and in New York's Time Square on the iconic News Astrovision by Panasonic. The worldwide premiere will be seen concurrently around the globe at locations, via mobile and online in the U.K., Canada, South America, Europe and Asia. The countdown to the trailer's debut begins today at www.24trailer.com. The first promo for the new season is also scheduled to air during Game 2 of the World Series on Thursday, Oct. 25 (8:00 PM-CC ET/5:00 PM-CC PT) on FOX.

The innovative, addictive, Emmy Award-winning television series 24 resets the clock for "Day 7" with a special two-night premiere event beginning Sunday, Jan. 13 (8:00-10:00 PM ET/PT) and continuing in the series' regular time period Monday, Jan. 14 (9:00-10:00 PM ET/PT) on FOX. The season will unfold without repeats, airing all originals through the season finale in June.

Set in Washington, DC, "Day 7" opens with CTU dismantled and JACK BAUER (Kiefer Sutherland) on trial. Bauer's day takes an unexpected turn when former colleague TONY ALMEIDA (Carlos Bernard) returns. Meanwhile, President ALLISON TAYLOR (Cherry Jones) leads the country alongside White House Chief of Staff ETHAN KANIN (Bob Gunton) and First Gentleman HENRY TAYLOR (Colm Feore).

A national security crisis prompts an investigation by a team of FBI agents including Agent JANIS GOLD (Janeane Garofalo), Agent RENEE WALKER (Annie Wersching), Agent LARRY MOSS (Jeffrey Nordling), Agent SEAN HILLINGER (Rhys Coiro) and security specialist MICHAEL LATHAM (John Billingsley). Although CTU is no longer, CHLOE O'BRIAN (Mary Lynn Rajskub) and BILL BUCHANAN (James Morrison) are back for another momentous day of shocking events.

As part of News Corp.'s global commitment to fighting climate change, 24 has pledged significant and innovative changes to its production practices with the goal of saving energy and reducing carbon emissions.

Created by Joel Surnow and Robert Cochran, 24 is a production of Real Time Productions and Imagine Television in association with 20th Century Fox Television. Joel Surnow, Robert Cochran, Howard Gordon, Evan Katz, Jon Cassar, Manny Coto, David Fury, Kiefer Sutherland and Brian Grazer are the executive producers.