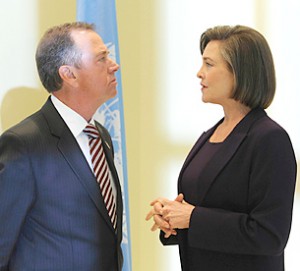 But no one on "24" can overshadow Charles Logan, the former chief executive who commanded the fifth season as scoundrel, boob and treasonous schemer. Deliciously played by Gregory Itzin, President Logan stayed busy at his waffling, cover-ups, secret deals with terrorists, even an implicit role in Palmer's assassination — all of it done (as Logan never tired of saying) "in the best interests of the country."

Ultimately thwarted by Bauer (series star Kiefer Sutherland), Logan resigned and was placed under house arrest.

But in TV drama as in the real world, disgraced politicians don't necessarily vanish. They hatch a way to rehabilitate themselves (or their image, at least), then re-enter the arena.

So hail to President Logan in the person of Itzin, who returns for Monday's episode, then continues through the remainder of this season, Day 8, which was recently pronounced the last. Midway through a season beset by series fatigue and ratings erosion, he could be the spark to send off "24" in a fitting blaze of glory. ("24" airs at 9 p.m. EDT.)

Logan, no stranger to such plights (especially those of his own making), is brought in to consult with President Allison Taylor.

"I'm a little more of a pragmatist, a realist," said Itzin, meaning his presidential alter ego. "President Taylor needs somebody to whisper in her ear and take her to the dark side, because she's such a good person. She's such a straight arrow!"
So Logan lasts through to the finale. Good news as Itzin is a fantastic actor. Glad the writers will be making good use of him.
Source: Associated Press