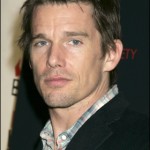 24 just ended this year and FOX seems to be wasting no time in creating a "spiritual successor" to the show.
The potential series called "Exit Strategy" would focus on a team of five CIA experts who are deployed when an operation goes bad to extract those in danger before it's too late. Ethan Hawke (Training Day, Gattaca) would play the team leader and each episode would deal with a different crisis at different locales around the world.
The pilot was written by Safe House screenwriter David Guggenheim and several A-List directors are said to be interested in the project.
Source: Deadline