Update 3/13: FOX has switched their schedule around and moved Touch to Thursdays. It will premiere on March 22nd after American Idol and continue to air on Thursdays. FOX's Bones has been moved to Mondays.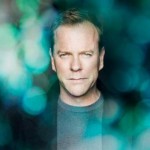 FOX has sent out a press release detailing their mid-season schedule and we finally have some information on Touch's premiere. First they will air a "special preview" of the pilot episode on January 25th right after American Idol to build buzz, then the series will premiere in 24's old time slot on Mondays at 9-10PM in March.
TOUCH, the distinctive new drama created by Tim Kring ("Heroes") and starring Kiefer Sutherland ("24") will debut with a special preview Wednesday, Jan. 25 (9:00-10:00 PM ET/PT), immediately following AMERICAN IDOL (8:00-9:00 PM ET/PT). The uplifting drama, which makes its series premiere Monday, March 19 (9:00-10:00 PM ET/PT), features Sutherland as a widower and single father haunted by an inability to connect to his mute 11-year-old son. But everything changes when he discovers that his son possesses the gift of staggering genius – the ability to see things that no one else can and the patterns that connect seemingly unrelated events.