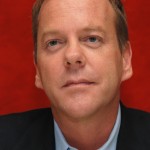 Thanks to Catherine who has sent us this interview with Kiefer Sutherland that was posted a few days ago by Spanish website eltiempo.com.
When asked about the status of the 24 movie, Kiefer says he doesn't know and is focused on Touch right now. He follows that up with "I did my best for the film to see the light, but it is currently out of my hands."
Kiefer's comments lately sure don't sound too promising for the 24 movie. Reading between the lines it kind of sounds like negotiations have broken down and it's not something that is actively being discussed between Kiefer and the studio.