FOX has released some data showing that they project the 24: Live Another Day finale will outperform the original series finale in 2010 when all is said and done.
The finale of 24: LIVE ANOTHER DAY grew 45 percent from 6.5 million to 9.4 million viewers in Live +7 ratings.

However, based on the show's 30-day performance this season, FOX projects the finale will end up adding another 12 percent from non-linear viewing (VOD 4+ days FOX NOW, Hulu.com) for a total of 10.7 million viewers – which actually outperforms the Season 8 finale of 24 (which drew 10.4 million overall, including DVR viewing).
They've also released this bar graph to demonstrate things in a visual form.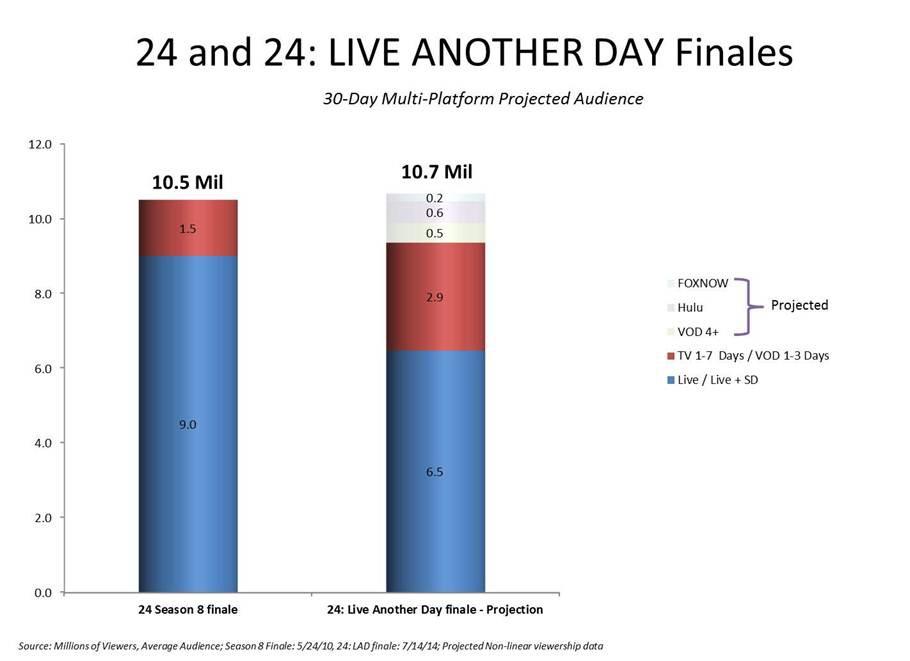 FOX has spun the numbers a little bit here, though. You'll notice the Season 8 bar graph on the left doesn't include online viewing figures at all, even though Hulu had been around for over 3 years when that finale aired in May 2010. If Hulu figures were counted for Season 8, it could easily tip things back into the other direction or result in a tie.
Still, this is fairly impressive for a summer series and it shows how the television viewing landscape has changed with the rise of DVR usage and online streaming. Live overnight ratings no longer tell the whole story when it comes to television viewership.
Live+7 numbers are in – the #24LAD finale jumped +47% to a 2.5/8 rating after 7 days of time-shifted viewing!

— FOX (@FOXTV) August 6, 2014
For reference, here are the Live+SD ratings for the entire season. These figures see large increases when DVR and online viewing is counted.
24: Live Another Day Ratings
Ep #
Ep Title
Airdate
18-49 Key Demo
Viewers
(millions)
1
"Day 9: 11:00 a.m. – 12:00 p.m."
May 5, 2014
2.5
7.97
2
"Day 9: 12:00 p.m. – 1:00 p.m."
May 5, 2014
2.5
7.97
3
"Day 9: 1:00 p.m. – 2:00 p.m."
May 12, 2014
2.0
6.48
4
"Day 9: 2:00 p.m. – 3:00 p.m."
May 19, 2014
1.7
5.72
5
"Day 9: 3:00 p.m. – 4:00 p.m."
May 26, 2014
1.5
5.71
6
"Day 9: 4:00 p.m. – 5:00 p.m."
June 2, 2014
1.8
6.18
7
"Day 9: 5:00 p.m. – 6:00 p.m."
June 9, 2014
1.6
6.28
8
"Day 9: 6:00 p.m. – 7:00 p.m."
June 16, 2014
1.4
5.63
9
"Day 9: 7:00 p.m. – 8:00 p.m."
June 23, 2014
1.4
5.71
10
"Day 9: 8:00 p.m. – 9:00 p.m."
June 30, 2014
1.4
5.72
11
"Day 9: 9:00 p.m. – 10:00 p.m."
July 7, 2014
1.4
5.96
12
"Day 9: 10:00 p.m. – 11:00 a.m."
July 14, 2014
1.7
6.47