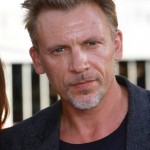 William Keck from TV Guide Magazine has wrangled a little more information out of 24 writer Brannon Braga regarding Callum Keith Rennie's character:
Battlestar Galactica vet Callum Keith Rennie, who played Leoben Conoy on the sci-fi series, will be joining his former co-star Katee Sackoff on the new season of 24, premiering in January 2010. Callum, who also had a recurring role on Californication and played Harper's Island killer John Wakefield, will be playing Vladimir Laitanan. Co-executive producer Brannon Braga describes the character as a Russian syndicate mobster who debuts around episode six or seven. "We love this actor," says Braga.

Expect Vlad to team in some way with 24's other new villain, Eastern European mobster Bazhaev, played by "Das Boot" actor Jurgen Prochnow.
Source: TV Guide Magazine